*Please scroll down for the English version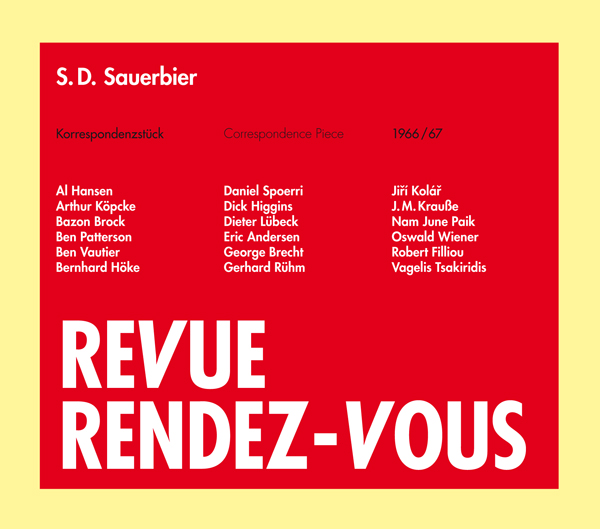 Mit Freude annoncieren wir die Publikation der »Revue Rendez-vous«.
Das Korrespondenz-Stück Revue Rendez-vous von S. D. Sauerbier entstand als Gemeinschaftsarbeit mit 18 Teilnehmern aus unterschiedlichen Arten und Gattungen der Künste oder zwischen den Künsten und Medien: Al Hansen, Arthur Köpcke, Bazon Brock, Ben Patterson, Ben Vautier, Daniel Spoerri, Dick Higgins, Eric Andersen, George Brecht, Gerhard Rühm, Jirí Kolár, Nam June Paik, Oswald Wiener, Robert Filliou u. a.
Der gemeinsame Nenner der Kooperation war Aktionspoesie als Handeln auf Gegenseitigkeit.
Revue Rendez-vous wurde 1965 konzipiert, 1966 ausgeführt, 1967 beendet. Bisher ist das Projekt nur verstreut und in Teilen veröffentlicht, Auszüge und Entwürfe waren in etlichen Ausstellungen zu sehen (etwa »Die Algorithmische Revolution. Zur Geschichte der interaktiven Kunst« wie bei Retrospektiven von Nam June Paik oder Dick Higgins).
Auszüge von Revue Rendez-vous reisten von 1995 bis 2011 mit der Ausstellung »Eine lange Geschichte mit vielen Knoten. Fluxus in Deutschland. 1962–1994« um die Welt.
Die Arbeit umfaßt Handschriften und Typogramme, Durchschläge und Kopien, Zeichnungen, Zeitungsausschnitte oder Lexika-Ausrisse, Fotografien, Etiketten, Formulare, auch Telegramme, Briefkuverts, Eintritts-, Post- oder Spielkarten bis zu Sammelbildern.
Das inzwischen historische Frage-und-Antwortspiel der Künstler wird ergänzt von Kurzbiografien und Dokumenten, Kommentaren und Anmerkungen aus der Korrespondenz der beteiligten Künstler sowie einem Vor- und Nachwort von S. D. Sauerbier. (Englisch und Deutsch)
Das leinengebundene Buch ist von Maximilian Sauerbier grafisch rekonstruiert und gestaltet worden. Es umfaßt 264 Seiten mit 300 restaurierten Farbabbildungen und ist im Verlag des Instituts für Buchkunst Leipzig erschienen.
Ihr Exemplar können Sie hier bestellen: Institut für Buchkunst Leipzig
ISBN 978-3-932865-79-4
© 2014 S.D. Sauerbier
------------------------------------------------
With pleasure we announce the publication of »»Revue Rendez-vous«.
This book is the realization of a project that began back in 1965. REVUE RENDEZ-VOUS is a correspondence piece, a collaboration involving 18 participants active in different fields and genres of art or working in intermediate areas between different arts and media: Al Hansen, Arthur Köpcke, Bazon Brock, Ben Patterson, Ben Vautier, Daniel Spoerri, Dick Higgins, Eric Andersen, George Brecht, Gerhard Rühm, Jirí Kolár, Nam June Paik, Oswald Wiener, Robert Filliou et al.
The common denominator for the project was initially action poetry, as a form of reciprocal action.
REVUE RENDEZ-VOUS was begun in 1965. The correspondence was brought to a close in 1967. To date it has never been exhibited in its entirety with only odd items from the project having appeared in print across a range of publications and only excerpts or drafts ever having been displayed in various exhibitions (like »The Algorithmic Revolution. About the History of Interactive Art« and retrospektives by Nam June Paik or Dick Higgins).
The materials and drafts went on tour with the exhibition »A Long Tale with Many Knots. Fluxus in Germany 1962«, held by ifa (Institute for Foreign Cultural Relations Stuttgart), and after all travelled all over the world from 1995 to 2012.
The work contains handwritten texts and typograms/copies/drawings/newspaper cuttings or items torn out of lexica/Polaroid photos/bottle labels, beer mats/forms, including telegrams/entry tickets/envelopes/postcards or playing cards – through to collectors' pictures and other found objects.
The collaboration piece is completed by a pre-/afterword and documents from the corresondence of the joined and the participating artists – most of them belong to Fluxus.
This publication, bound in cloth, comprises 264 pages with 300 restored colour plates. The book is designed by Maximilian Sauerbier and published by »Institut für Buchkunst Leipzig«, Germany. (with english and german texts)
You can order your copy here: Institut für Buchkunst Leipzig
ISBN 978-3-932865-79-4
© 2014 S.D. Sauerbier